How to prepare pools for hurricanes (and other big storms)

Much of Poolsure's service area is impacted by the Atlantic hurricane season, which officially starts on June 1st, peaks in mid-September, and ends on November 30th.
Hurricanes — or really, any big storms — can wreak havoc on your pool. Pool furniture and equipment can get knocked over by heavy winds, pool chemistry will most likely take a hit, and debris will probably get everywhere. However, if you take some precautions before the storm hits, you will have a much better chance at minimizing the damage afterward!
Before the Storm:
How should you prepare your pool for a storm or hurricane?
Pool water:
Check and adjust pool chemistry.
Raise the FAC level above 5 ppm.
Do not put a pool cover on the pool.
Pool equipment:
Clean debris from strainers and pump impellers.
Clean and recharge the pool filter.
Unplug the chemical controller.
Turn off all pool equipment at the breaker.
Pool area:
Close your pool.
Store deck equipment indoors.
Take pictures for insurance purposes.
Poolsure keeps an eye on hurricane activity in all of our service areas, and we continue service until is it no longer safe to operate in your area. If you are impacted by a hurricane and need pool equipment repairs or replacement, Poolsure's highly skilled team can perform pool repairs as needed. However, taking the hurricane precautions listed above will give your pool the best chance of getting through a hurricane without incurring big costs!
After the storm — now what?
Safety first! Please make sure to follow all shelter-in-place or evacuation orders from local authorities. Once it is safe to return to your property, please do the following:
Check for damages to equipment.
Contact insurance with pictures if applicable.
Clean out all debris in your pool and skimmer baskets.
Pool debris affects pool chemistry. Prevent stains from forming by cleaning out post-storm debris right away.
Measure chemical levels and adjust accordingly.
If your chemical controller was shut off during the storm, your pool's chlorine level may be low. Pay special attention to the pool's chemical readings after a storm and rebalance if necessary.
Notify Poolsure if a chemical delivery is needed.
If you are low on chemicals after any post-storm chemical dosing, schedule a delivery with Poolsure as soon as possible so that you don't run out!
If Poolsure service to your area is interrupted due to hurricane activity, we do try to resume service ASAP. However, we do not have eyes on the ground; we will need your help in determining when it is safe to resume service to your property.
Before Poolsure can resume service to your property, please confirm:
Evacuation orders (if any) have been lifted.
Curfews (if any) are no longer in effect.
Major roads to the property are open.
Flooded and equipment areas are dry.
Power is restored to the property.
There are no health or safety hazards to those entering the property.
As always, please reach out to us through our contact form if you have any questions or need to request service.
Hurricane Guidelines for Pool Operators
If you want a quick guide, download our condensed Hurricane Guidelines checklist to help you through these situations.
Poolsure Hurricane Guidelines – English
Poolsure Hurricane Guidelines – Spanish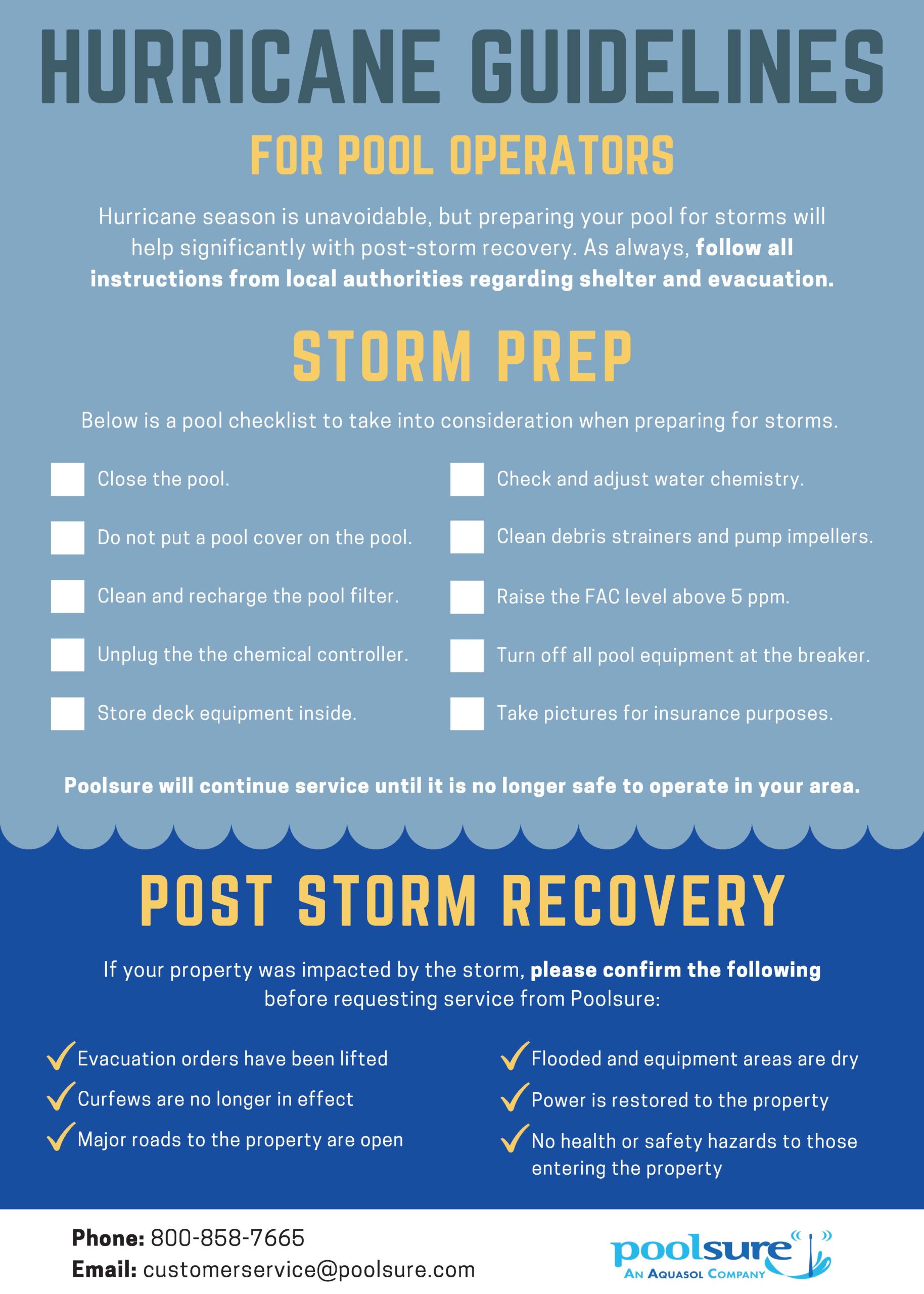 Poolsure provides water management services for commercial pools and spas along the Gulf Coast. Let us bring safe swimming to your property and help you keep your pool beautiful and safe!

ADDRESS
1707 Townhurst Drive
Houston, TX 77043
PHONE
1-800-858-7665
EMAIL
[email protected]
HOURS
Monday – Friday
7:00am – 5:30pm
CURRENTLY SERVICING
Texas, Louisiana, Mississippi, Florida, Arizona
Want More Info?
Let us revolutionize your relationship with your pool! We are currently servicing commercial pools in Texas, Louisiana, Mississippi and Florida.
Main Contact
We love questions. Let us know how we can help!